Once in a while, a talented, prolific person pops up out of nowhere and produces thousands of masterpieces in their lifetime; Bob Ross is one of those individuals. Bob Ross could paint an Alla Prima wet-on-wet painting in 28 minutes AND he did three versions for over 380 episodes of The Joy of Painting.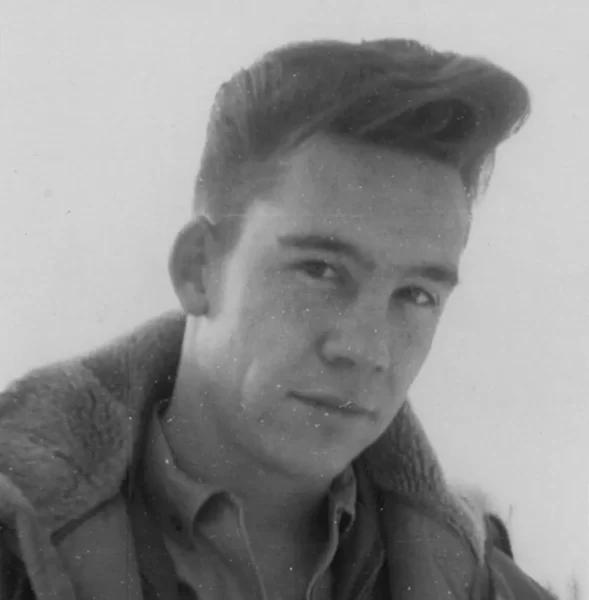 ---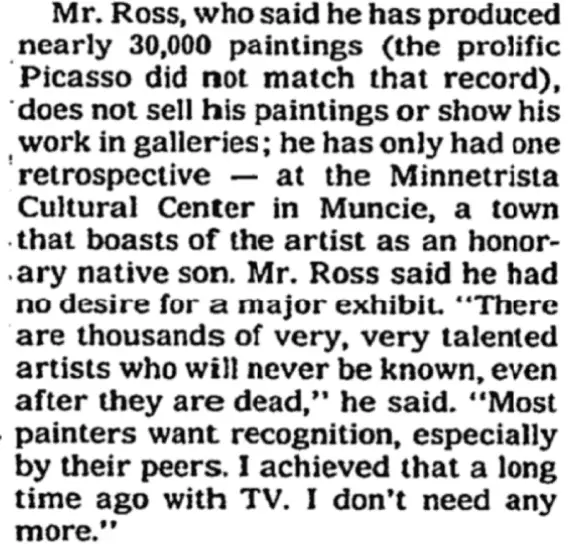 ---
Bob Ross painted for the show, The Joy of Painting, without charging for his time. The Joy of Painting ran on PBS from 1983 to 1994, and his income came primarily from Bob Ross Inc., selling art supplies and how-to videotapes, and teaching classes. He could record an entire 13-episode season in just two days, with three versions of each painting designated for each of 381 of 403 episodes.
The Artistically Beautiful Life of Bob Ross
He found his love of painting potentially in an art class at a United Service Operations hall in Alaska. Throughout all the media available on Bob, one can observe a certain quality: a willingness and true desire to share the joy of self-expression. There are videos and books of abounding numbers, all of which communicate the same quality of the love of art.
Legal Battles Surrounding His Namesake
Upon his death in 1995, a grey cloud of disputes arose around rights to his namesake and work produced under Bob Ross Inc, with his partners ex-CIA Walter Kowalski and fellow artist, Annette Kowalski.
The legal battle and conflicts centered around all facets of products and services associated with Bob Ross's name.
Art classes and workshops
Bob Ross's voice: calm.app
Video, TV show rights, and all artwork created on the show, The Joy of Painting
All intellectual and physical property associated with the show, and allegedly all other ancillary services and revenue
The Bob Ross Youtube Channel
www.bobross.com
Bob Ross Inc Painting Supplies and Merchandise.

Two years after the death of Bob Ross, Jim Cox, Bob Ross's half-brother, signed over all rights to end ongoing legal battles in 1997. There is no information on if there was a monetary exchange in the settlement.
---
Youtube Revenue
To date, the Bob Ross Youtube Channel has generated over half a billion views with that iconic man-fro (which is reportedly a hairstyle he grew tired of but kept for the show). Young and old together listen to his calm voice and explore either mentally or with a paintbrush, the joy of painting and the happiness that soothing self-expression brings.
---
Why Are Bob Ross Paintings So Hard to Find and Buy?
"We've never really talked about it [selling them]."

Jane Kowalski, Bob Ross Inc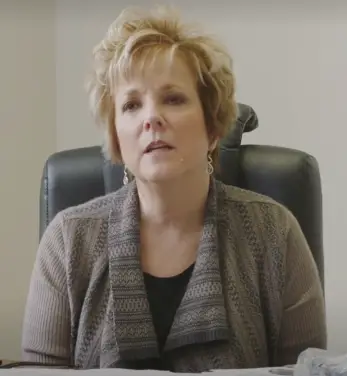 After the airing of the Netflix Documentary: Bob Ross: Happy Accidents, Betrayal, and Greed and the launching of the Bob Ross channel on Twitch in 2021, Bob Ross became an international icon, with brand recognition reaching its height.
Demand for his work must have gone through the roof. 🙌

How Many Bob Ross Paintings Are There?
As of March 5th, 2022, at the Bob Ross Art Workshop & Gallery in New Smyrna, Florida, there were 54 paintings for sale by Bob Ross Inc. There were another 27 paintings for sale at Minnetrista's Bob Ross Experience in Muncie, Indiana.
A book version of Blue Ridge Falls and three versions of On a Clear Day exist at the Smithsonian. Before the donation to the Smithsonian Museum, Bob Ross Inc estimated 1,165 artworks in BRI storage as per the 2019 New York Times article.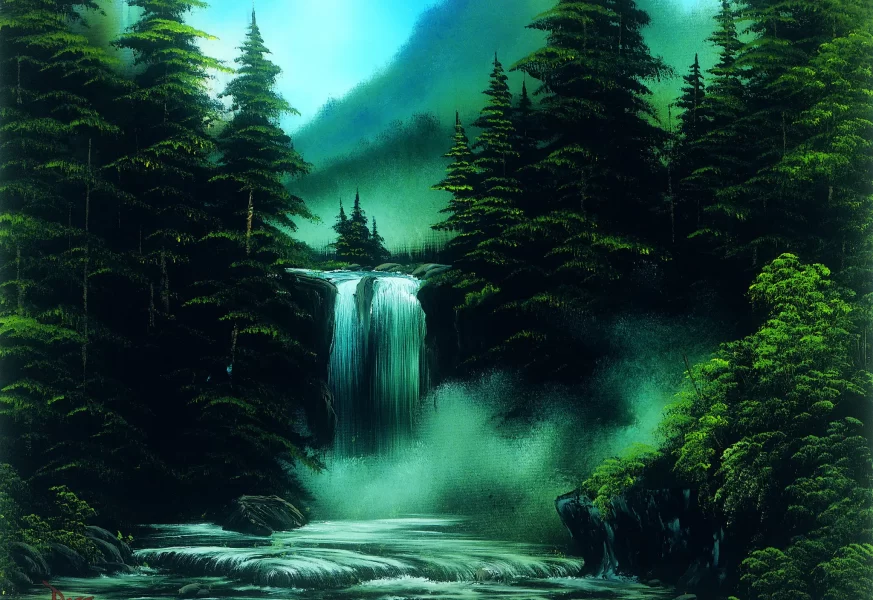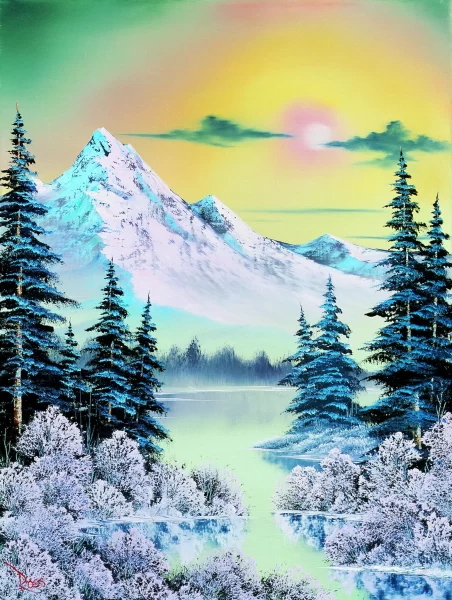 There were three versions of every painting, one for the show, one for the book, and one for Annette. At 381 episodes in which he painted, multiplied by three for his process, that's 1,143 paintings from the show, with 22 outliers based on the BRI estimate.
In 2019, a journalist for the New York Times, Aaron Byrd went on a mission to purchase an original Bob Ross for his brother. He couldn't find one so much so that he wrote an article about it with three other journalists.
If he started painting at 18 years old and passed away at 52, then that's 34 years of painting.
If in the 1991 New York Times interview, he had in fact painted 30,000 pieces of art at that point in his life, then that's 937 paintings per year. Let's say he painted for another four years, then that's about 34,000 paintings!
…originals by Bob Ross potentially out there in the world,
which, coincidentally must be verified by Annette Kowalski (Joan's mother) to be deemed original.
But, Where Are Bob Ross' Paintings???
If there are about 31,000 pieces out there, they have to be somewhere. Across all the classes and workshops in the height of the 60s to 90s, there are probably Bob Ross paintings throughout homes and storage in Alaska, Florida, and probably everywhere Bob touched a life with paint.
If a person had come across a few, they would be verified and up for sale, which they are not. If a person had been his friend or his family, they may treasure it dearly and to this day, stay quiet. But if that person passed, their kids would probably sell it, or not truly understand the intrinsic value of those random trees and mountains with a generic last name as a signature.
If his masterpieces were done in his workshops, art classes, spare time, secret places, outdoors, or just on the show and in spurts, they're out there. Some are owned by family, certainly, but there is still a giant discrepancy between the number of confirmed paintings, and what he reported to the Times.
After the rights battles began when he had wanted to start branching out with Bob Ross Inc, he may have very well painted his soul into his work, knowing the end was nearing, but being a quiet man chose to paint instead of cringing.
---
So, How Much Is Each Bob Ross Piece Worth?
Presumably, during Aaron's research, his article revealed a Bob Ross original oil painting: Triptych Mountain Landscape," listed for $55,000 on eBay. Again, presumably, it sold as the next surfacing is on artsy.net for $65,000, which upon visiting the link, reports 'sold'. However, upon Google Images search, one can see the listing price was $65,000.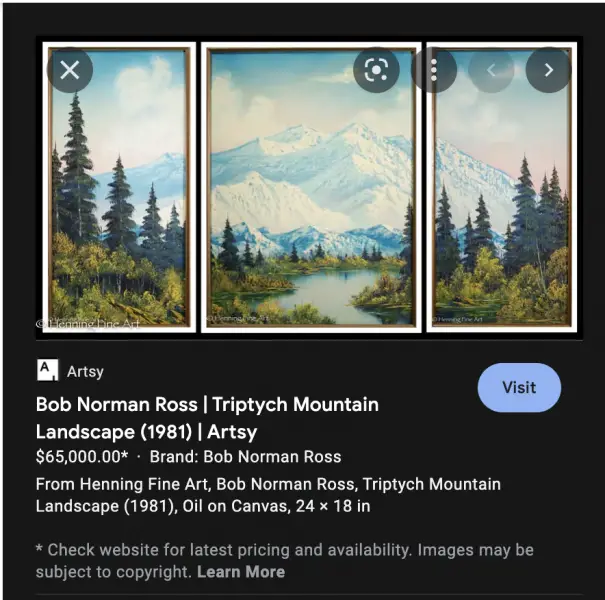 The sale of one painting went from $55,000 to $65,000 (an 18.1% increase) in approximately a year. No data on the date of the closure of the sale is publicly available.
Quoted originally by Annette Kowalski in either 2019, or from when the actual clip used in the New York Times video (embedded with the article), a Bob Ross painting had then sold for approximately $8,000-$10,000 per painting based on her experience of recent years online sales before the interview.
| | | | |
| --- | --- | --- | --- |
| Year(s) | 199? to Before the New York Times interview | 2019 Aaron Byrd Finds A Bob Ross on eBay | 2021-2022 artsy.net listing and sale |
| Artwork Title | Any Bob Ross work | Triptych Mountain Landscape | Triptych Mountain Landscape |
| Listed Sales Price | $8,000 – $10,000 | $55,000 | $65,000 |
---
What's Steve Ross, Bob Ross' Son, Doing Now?
The original heir of Bob's namesake, Steve Ross is following his path in line with his first appearances along with his father. He shares the art of painting with people, who at first, believe they cannot paint, and with his help, discover they can.
He and his partner, Dana Jester hold 7-day workshops at $125/day/person on the 15th-century old painting technique, Alle Prima, widely used by Van Gogh, who as great artists do, probably got the idea from someone or something else.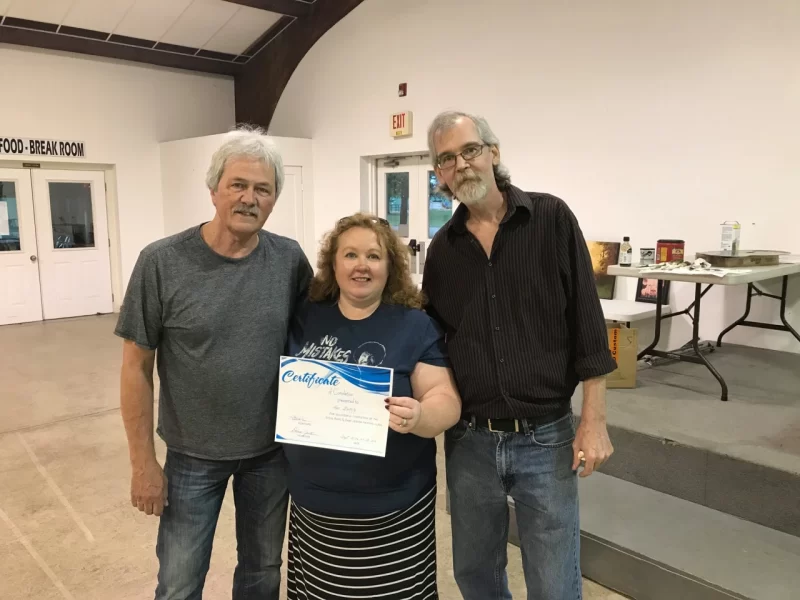 As of June 19, 2022, Steve Ross is not affiliated with Bob Ross Inc and does not have any percentage ownership of the Bob Ross name. He did not learn of the amendment and release to the intellectual property rights until 20 years after it had been documented.
---
In Conclusion
All across a life of building a company to share art with the world, knowing that what he films will be etched into digital memory forever, Bob Ross may have just wanted to go back to the peaceful outdoors of Alaska or Florida to paint the scenes he saw in his mind. He was happiest when he painted.
Nonetheless, his artwork and essence live on in his work and message. As the future moves forward, artists will be able to indefinitely "sign" their artwork, and their transactions will be part of the blockchain in "NFT" technology.
Good luck: Steve Ross and Bob Ross Inc.
Please continue to share his gift with people with the main concepts being: be happy, chill, and anyone can paint.
#why-artists-should-NFT-their-work.