♫ Take me to the riverrr. Drop me in the riverrr. ♫

Big Mouth Billy Bass
In the early 2000s, there were fads that managed to reach the spotlight and ultimately sink into obscurity — Tamagotchis, Webkinz plushies, or Furbies are prime examples of what toy manufacturers were trying to achieve: toys that sell all over the globe.
In the early 2000s, the world was introduced to an unlikely celebrity, a robot fish.
The Big Mouth Billy Bass is a mounted animatronic fish with a singing, soothing Southern voice, welcoming every passerby with songs.
Made up of rubber latex and relatively simple, but revolutionary machinery, it was known for its silly antics, flopping around, bending its neck, and lip-syncing to Al Green's Take Me to the River.
With a catchy tune, the song lures in any unsuspecting passerby. At a key moment in the song, the robot fish looks you in the eye and requests that you take it to the river, wagging its tail to the rhythm.
Big Mouth Billy Bass debuted in 1999, with the help of Joe Pellettieri, a prominent toy designer, and Gemmy Industries' support. In its first year, Billy generated over $100 million in revenue.
Humble Beginnings
Despite Pellettieri's relatively unknown early biography, after graduating from Indiana University with a Master of Business Administration, Pellettieri set out to work as a trader for many department stores in the United States, but he quit a decade later, citing that he "wanted to look for the next big thing." In 1998, he found a new job in a small novelty toy business named Gemmy Industries.
Gemmy Industries has come a long way since its founding in 1984.
Surprisingly, its first product on the market was ballpoint pens. Later on in its lifespan, Gemmy offered many novelty items, especially toys, that "mirrored cultural trends in music and movies."
Dancing Hamsters, Frogz, or Douglas Fir the Talking Tree were what Gemmy Industries produced and sold on the market.
During Pellettieri's recruitment in Gemmy Industries, the company's main product was Sunny the Singing Sunflower, a mechanical flower that sings and dances to You Are My Sunshine by Johnny Cash, but sales were dismal. Pellettieri suggested the designers not only have one, but multiple flowers dancing in a pot, creating Dancing Flowers.
Pellettieri's contribution to the company made him rise through the ranks, ending up as a VP of Gemmy Industries. Eventually, the Dancing Flowers' popularity wilted away, and Pelletteri had to find the next big catch.
The Cast
Great ideas can come from anywhere. There are no titles around an idea.

Steve Stoute
In the last few months of 1998, Pellettieri and his wife, Barbara, took a road trip throughout the United States. During their travels, the Pelletteris took a short pitstop nearby a Bass Pro Shop, an establishment known for its fishing gear and outdoor equipment, in Grapevine, Texas.
Wandering through aisles, Barbara suggested Pellettieri suggested an idea: a singing fish on a plaque.
It was hilarious.
For comic effect, Pellettieri added that the fish should sing Take Me to the River by Al Green. But alas, Pellettieri could not let go of the singing fish.
The novelty toy industry was and still is notorious for its unpredictability; nobody knows what will be the next big craze. Despite the high risks, Pellettieri continued onward with his purple cow idea, or rather a purple fish.
Pellettieri's motivation for the invention was from a book written by Seth Godin, a former e-commerce executive, titled Purple Cow: Transform Your Business by Being Remarkable.
Within the book, Godin argued that in order to conquer the market, one must create a purple cow, a product out of the ordinary, to stand out from the rest in order to become iconized by consumers. Godin's philosophy has been proven true by many toys of the 2000s, including Furby, Tickle Me Elmo, and Tamagotchis. On the contrary, other executives at Gemmy Industries "hated" the book, but Pellettieri remained set on getting the singing fish into the public spotlight.
After designing and working with his engineers at Gemmy Industries, Pellettieri refined his singing bass idea to become a reality. Its first prototype consisted of a bland fish on a wooden plaque, lip-syncing and shaking its fin to a tune. Despite the developments Pellettieri made, he considered his first model to be "horrible" as his customers were dissatisfied, but Pellettieri was determined to get the bass out of the water.
In his later attempts, Pellettieri's desire was to make the fish sing and dance as realistically as possible, prompting him to contact a taxidermist. The generic fish on the plaque was replaced by a largemouth bass as it was one of the most common game fish in the United States. Pellettieri also made an addition to the singing fish — a motion sensor. When someone happened to be passing by the plaque, the animatronics and song would begin, filling any passerby's eyes and ears in a span of 5 seconds.
In 1999, Pellettieri's second prototype was finished, and he traveled across the globe to a showroom in Hong Kong, where he met local Gemmy Industries engineers. When Pellettieri was looking at the hanging fish in the showroom, he did not feel quite right.
After sinking into his thoughts, Pelliterri asked the Hong Kongese engineers a simple query: could they make the fish turn its head?
Even if today's animatronics outshine Big Mouth Billy Bass, the mechanism behind the "flapping" was revolutionary to the world of animatronics. There were many vertical turning mechanisms done successfully by engineers before, however fluid horizontal turning was unprecedented. Against all odds, the engineers were able to allow the bass to turn its head.
When Pellettieri's customers waltzed into the showroom, they were encountered by a bass on a plaque, singing a silly tune, turning its head, and flopping its tail. They were captivated by its charm and unexpectedness.
The Reel
After the reveal in Hong Kong, Pellettieri flew back to Texas and began development on the final product, resulting in some changes. Firstly, the exterior of the singing fish was latex, but it was replaced by PVC materials as the latex scratches when it wears down over a period of time. The insides of the fish now were filled with foam to allow movement. Finally, the two iconic songs that the Big Mouth Billy Bass would sing were Al Green's musical hit Take Me to the River and Bobby McFerrin's Don't Worry, Be Happy.
The name Big Mouth Billy Bass was from a suggestion made by Gemmy Industries' packaging department, and Pellitteri loved it.
After more than a year-long development of Big Mouth Billy Bass, it was introduced to the public eye in 1999, with the Bass Pro Shops and Cracker Barrel as one of the first clients. The initial price of the fish was $29.95.
Despite the massive craze, Big Mouth Billy Bass did not pay for advertising to get the word out into the world, only word of the mouth.
The Catch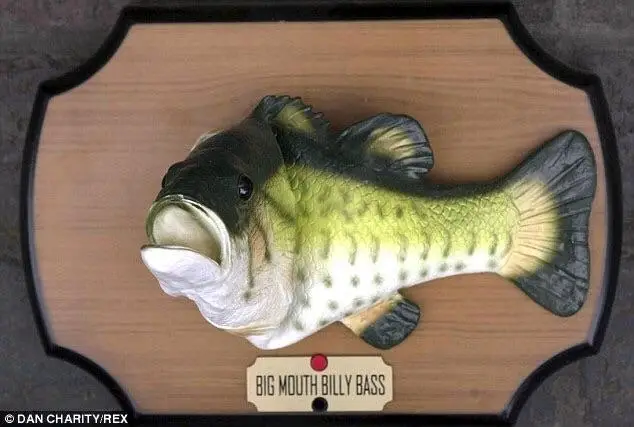 In the early years of the 2000s, the Big Mouth Billy Bass made its way to a gift show located in Atlanta, Georgia. When its debut was made to the open public, they were amazed. At first, the product was only sold at small novelty gift shops, with the reason to generate high demand by offering locations with a small supply of Big Mouth Billy Basses. During its peak, the businesses ran out of Billies in under an hour, causing a huge demand and generating free advertisements as rumors spread from scarcity.
Later in Billy's stardom, major retail chains, such as Walmart, Kmart, or Toy "R" Us, featured Big Mouth Billy Bass on their shelves nationwide.
By Christmas, the Big Mouth Billy Bass had become a business marvel, making appearances everywhere in America; Billy appeared in homes, restaurants, and even concerts and talk shows. Even important figures in today's society were involved.
According to sources, Bill Clinton, the 42nd President of the United States, gifted Billy to his vice president, Albert Gore Jr. Even her majesty Queen Elizabeth owned one herself.
In its first year, the Big Mouth Billy Bass reportedly generated over $100 million in revenue, which is approximately $173 million in November 2022 (just 22 years later with inflation). Al Green, the singer of Take Me to the River, even claimed that he earned more from royalties from Big Mouth Billy Bass than his music.
Even if Billy became a nationwide celebrity singer, like many fads and trends, his fame was short-lived. After the fall of 2001, Big Mouth Billy Bass sales dropped drastically. The price of a Big Mouth Billy Bass was reduced to an average of $5. Finally, production of the Big Mouth Billy Bass ceased only 9 months after launch. After Billy's disappearance, many imitators came out of the bushes, or rather the river, pushing Billy into obscurity.
Today and Legacy
Today, Gemmy Industries has come a long way from novelty gifts. The company became a major producer of seasonal decorations and gifts, such as LED Christmas lights, inflatable Halloween decorations, or themed plushies, in the United States.
Joe Pellettieri remained a toy maker, but he relocated to other companies in 2010-2013. In May of 2013, Pellettieri found a position as a Vice President of Product Development at Occasions Limited, a seasonal and decorations company.
While busy at his job, Pellettieri is active on Twitter, drafting many concepts for his toys.
After years of limbo, Billy managed to find himself in another spotlight with the help of others since his popularity subsided. In 2009, McDonald's featured Big Mouthed Billy Bass in a commercial for McFillet.
Seven years later, Brian Kane, a developer, hacked into Big Mouth Billy Bass' system and connected it to Alexa, a virtual assistant made by Amazon. Kane has garnered more than 1.8 likes on Facebook since his post. Billy was also included in many beloved film franchises, for example, Wall-E, the Sopranos, and the Simpsons.
Jeff Bezos, CEO of Amazon, announced in 2018 that he would begin selling Alexa-enabled Big Mouth Billy Basses for the market, allowing Billies to sing anything, tell the weather, or even interact with you.
♫ Don't worry. Be happy. ♫

Big Mouth Billy Bass