Technology has changed the way we do many things in our lives. In the restaurant industry, it's meant more customers reaching for their phone instead of their car keys when looking for a bite to eat. While this may have meant making a phone call in times past, companies like Grubhub rose from obscurity to pioneer the online food ordering industry and create a new market demand for easy online ordering of takeout. Year over year, the company has grown leaps and bounds in key metrics, including revenue, sales, and userbase. 
Grubhub's 2019 revenue was $1.3 billion, a 30% growth from the year prior, and the company now accounts for one-third of the online-food-ordering market share. As a whole, the industry has grown to $26.8 billion, even though online food ordering only makes up about five percent of all restaurant orders. It's a small but mighty market that continues to grow as online ordering increases about 20 percent every year. By 2025, it could be a $200 billion industry. 
For consumers, the draw is convenience. Using one app to order from multiple restaurants is fast and straightforward. It's also in line with the on-demand service we've all grown used to, whether its streaming movies, free one-day shipping, or having a taxi at your door in mere minutes. 
For restaurants, joining third-party food delivery apps can increase sales as much as 16 percent. Food delivery can make up six to 20 percent of a restaurant's sales and accounts for a large part of the money coming in. 
With all the business food delivery services bring, why have restaurants come to see them as a necessary evil, and how are these services changing the restaurant industry? Furthermore, are food delivery services sustainable for both restaurants and food delivery companies? 
Why Restaurants Can't Live with Food Delivery Services
A Pricey Convenience
 
Restaurant profit margins are notoriously thin, hovering around six percent for many restauranteurs. Customers have come to expect local eateries to have an online ordering option, and many restaurants are answering the demand by signing on with third-party delivery services. 
In the early days, commission fees used to be a much more manageable six percent per order. As services grew in popularity, service providers demanded an even bigger slice of the pie. Today, restaurants pay as much as 30 percent commission for each order to providers like Grubhub and Uber Eats. These commissions cut deep into restaurant earnings and make it hard to stay profitable, especially since restaurant owners still have to pay for everything else, like rent, utilities, insurance, supplies, labor, and more.
In an interview with The New Yorker, Michelle Gauthier of Mulberry & Vine admitted, "We know for a fact that as delivery increases, our profitability decreases" because food delivery services take 20 to 40 percent of her profit on each order. Many restaurant owners share the feeling they're either losing money or breaking even on delivery orders but feel obligated to offer third-party delivery because they don't have enough resources to manage their own delivery service. They also wouldn't be able to compete with restaurants who are on the platform and who would take away potential customers from them.
No Other Choice
 
Diners have always loved the convenience of deliveries to their home or workplace. Third-party apps have made it so easy and simple that many millennials now prefer it to dining out. 
To keep up with the times, Gauthier initially had her own couriers delivering meals, but the logistics and coordinating the staff became a nightmare as delivery volumes grew. Many small, local operations also feel the pressure to provide online delivery services, but the high-demand makes it impossible for them to handle the process themselves. They feel no choice but to hand over their business to online ordering companies like DoorDash and Postmates. 
Food delivery apps have become the default contact method for millennials, especially given the majority of them have phone anxiety and despise talking on the phone. It makes them uncomfortable and nervous, and before they would ever call a business, they'll check if they can place an order online from the restaurant's website or app. If no other options are available besides calling in, most millennials will simply pick another restaurant. If restaurants lose out on these customers, they could lose enough business that staying afloat becomes impossible. 
Millennials are also well on their way to killing doorbells as they're not fond of interacting with known and unknown people at their door. They are just as uncomfortable ringing doorbells as they are answering them, with some calling it an "anxiety button." Partly to create a better customer experience, a few food delivery companies implemented a "no contact" delivery option where food is left by the driver at the front door, and then picked up at their convenience. 
In recent times, such a feature is proving to be useful for other reasons: to prevent the spread of Coronavirus. All major food delivery apps, including Grubhub, Seamless, Postmates, Uber Eats, DoorDash, and Caviar, have added a no contact option to their platform, with many making it the default. Contactless deliveries reduce the risk of transmitting the COVID-19 and also comply with the CDC's advisory to maintain a 6-foot distance between people. 
Also in response to the pandemic, many restaurant chains like Smashburger, Wendy's, Burger King, and the Cheesecake Factory are waiving their delivery fees on food delivery apps or their own delivery fees if they do deliveries themselves. Others, such as Domino's, are discounting their entire menu by as much as 50 percent for takeout and delivery orders. 

Cannibalization of Customers
 
If a third or more of restaurant profits go towards delivery commission fees, then it stands to reason dine-in meals are more lucrative because they don't have the added cost. Restaurants, however, are seeing the number of dine-in customers dwindle as the percentage of takeout customers overshadows the number of customers taking a seat at their tables. 
Food delivery encourages customers to replace a meal they otherwise would have had in a restaurant because with delivery because they're less of a hassle. In a cost-conscious society, diners also reason that by leaving behind the in-restaurant dining experience, they're saving the 15 to 20 percent they would have given in tips to their waiter and perhaps even the money they would have spent on drinks and dessert. What they might not realize is delivery apps require them to pay a delivery fee set by the restaurant—typically between $4 and $8 but sometimes free—and a tip for the driver, usually 15 percent for a job well done. 
Apps like Uber Eats also charge service fees equal to 15 percent of the order's subtotal and a small-order fee on orders less than $10. Other companies like Caviar charge an 18 percent service fee on each order. These service fees don't go toward the driver, so it's additional money customers have to shell out. 
Despite the added costs to the customer, restaurants don't profit much, if at all, from any of the extra fees added to delivery orders. Many are still either losing money or breaking even with each delivery. 
It's Not All Bad News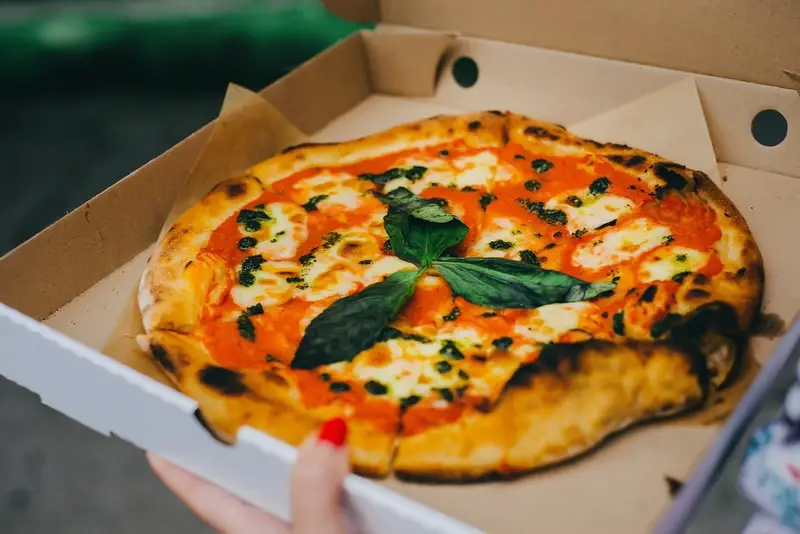 New Industry Opportunities
 
With trends moving toward delivert instead of dine-in, some restaurant owners are wondering if it's even worth it to maintain traditional restaurants. Entrepreneurs are seeing new opportunities to cash in by creating a new category in the foodservice market through ghost kitchens. These are restaurants with no physical storefront, servers, or dining areas for guests. They are purely a commercial kitchen that prepares food for delivery only. They're also known as "cloud kitchens" or "dark kitchens," and people frequently opting for online ordering might not ever realize their meal isn't coming from a traditional restaurant. 
These kitchens are growing in numbers as well-known brands like Chick-fil-A and McDonald's jump on board. Uber's former CEO, Travis Kalanick, also started a ghost-kitchen in a $400 million venture-backed business by Saudi Arabia. 
Cloud kitchens lack many of the overhead expenses traditional restaurants have. From the outside, they seem to present an excellent opportunity for a cash-cow business. However, restaurants are still experimenting with business models and how to maximize profits and create a loyal customer base for a restaurant that mostly lives in the digital space. It's too soon to tell whether ghost kitchens will catch on, but restaurants like Ando show they might not be the magic bullet they appear to be. 
According to an interview with The New Yorker, chef David Chang of Momofuku and venture capitalist Hooman Radfar opened up Ando in 2016 to provide a delivery-only experience from a production kitchen making fares like sandwiches and salads. Since the restaurant didn't need a storefront, the founders saved on pricey real estate by opening in a cheaper area. They also saved on many of the costs of dine-in restaurants have like décor and staff since people could only purchase through a proprietary app.
After only a little more than a year, Andos CEO, Andy Taylor, stated they had to add a conventional façade. Even with all the money saved by cutting costs, it wasn't enough to offset delivery expenses, which continue to rise due to a tight labor market and minimum wage increases. Taylor lamented to The New Yorker, "I don't think a pure delivery model can be profitable."
Regardless of the future fate of ghost kitchens, restaurants are still trying to innovate to succeed. Some food delivery companies like Zomato, for example, not only lend their ghost kitchens to restaurants but remove all other middlemen by fetching, delivering, and distributing all the raw materials themselves. The company is actively setting up enormous warehouses all over India, storing fresh produce up to their quality standards and drastically reducing food sourcing costs. For Zomato and ghost kitchen restaurants, this means bigger profits, and for consumers, it means lower-cost meals conveniently delivered to their doorstep. 

Uptick in Incremental Sales
 
Despite receiving hate from restaurants, food delivery apps do give restaurants more exposure. Positive reviews within the app also make them stand out from the crowd without the restaurant having to invest in marketing heavily. The increased exposure also helps attract customers who otherwise wouldn't have given them a chance, and lets restaurants who wouldn't be able to provide online ordering because of costs or logistics do so with ease. 
The sales growth restaurants experience after joining serve as proof; many see sales gains of 16 percent after adding a delivery option. Perhaps the ease of ordering is also a reason why customers spend up to 20 percent more on delivery orders—although this doesn't necessarily translate into more profits due to the high cost of delivery fees. 
The convenience factor of online ordering also earns restaurants more sales. After a hard day's work, most of us don't want to cook dinner or trek outside with the kids on a school night to be able to eat dinner. By ordering online, customers don't have to leave the house, go out in lousy weather, struggle to find parking, or waste gas. Whereas previously they might have given up at the thought of ordering from a restaurant, they're now happy to. 
Offering delivery is also proving to be essential as restaurants throughout the country are mandated to close down or limit their capacity to limit the spread of the Coronavirus. Providing takeout and delivery options may be the only thing keeping many restaurants from shuttering for good. 
 
Are These Services Sustainable for Restaurants and Food Delivery Companies?
 
While restaurants using third-party food delivery companies are struggling to stay in business, food delivery companies are also treading water as competition in the market place is making it hard to keep customers loyal to a single platform. "We believe online diners are becoming more promiscuous," said Grubhub's CEO, Matt Maloney, in a shareholder letter. "For years, we saw in our data that a Grubhub diner was extremely loyal to our platform. However…our existing diners are increasingly ordering from multiple platforms." 
Grubhub has seen its U.S. sales market share go from over 50 percent down to 32 percent in just two years. Companies like DoorDash are taking the lead with 33 percent of U.S. sales, and other popular apps like Uber Eats and Postmates are fighting for market share in any city up for grabs. 
Another problem for food delivery services is that despite high commission fees charged by apps, profit margins are surprisingly slim. The bulk of their income comes from delivery and service fees and revenue shares with restaurants. But to beat out the competition with other food delivery companies, businesses are lowering their commission. Companies also lowered their commissions to secure deals with more prominent companies like McDonald's and Applebees.
The result of the dog-eat-dog competition is that food delivery services are all suffering losses. "Uber Eats was losing nearly $1 for every $1 it generated in net revenue, after subtracting payments it makes to drivers" in the first three quarters of 2019, according to the Information.  
Though the demand for food delivery continues to grow, these services are poised to start losing money if they too don't figure out how to rise above the competition. Grubhub reduced its guidance for revenue and profit; DoorDash reported a projected operating loss of $450 million in 2019; Uber Eats adjusted quarter three loss in 2019 was $316 million. As a solution, companies like DoorDash went public in February and are open to consolidating to keep their business healthy. They're also taking advantage of technological tools like autonomous vehicle delivery to cut out driver fees. 
 
Final Thoughts
 
The people have spoken, and today's generation wants online food ordering. But both restaurants and food delivery services are losing money. One because of high commission fees and the other because of competition. The conundrum is that restaurants and food delivery apps need each other to stay in business and provide services diners want. 
Restaurants are trying to reduce costs by changing the way they do business. The newest ventures include ghost kitchens that work as delivery-only locations. Some are also working together with food delivery companies who are sourcing and storing raw materials to save money. 
Food delivery services know that the way forward is to reduce competition by way of mergers and use technology to further reduce or eliminate costs. 
To survive the next decade, both restaurants and food delivery services alike will have to innovate and reform the industry to increase profitability and meet customer needs. `