Yogurt sales have been in a slump for several years. For a long time, yogurt was a forerunner in health-food crazes like high protein and probiotic foods, Greek yogurt in particular. But recent years have seen consumers turn to other choices. According to the market research company Mintel, in 2019, yogurt sales reached $8.2 billion. This is a 3.6 percent drop from 2018 and a far cry from the 2015 high of $9 billion. Yogurt sales are expected to drop another 10 percent by 2024.
The drop has been attributed to consumers opting for more plant-based products, and an oversaturation of choices lining the shelves. There are more than 300 options facing consumers these days, leaving them overwhelmed. 
Some of yogurt's most prominent brand names are seeing declines in their sales. On the other hand, the popular yogurt company, Chobani, was able to increase its sales by 9 percent in 2019. The company began in 2005 when Turkish immigrant Hamdi Ulukaya bought a defunct yogurt plant that had previously belonged to Kraft. When Kraft closed their plant, the town of South Edmeston lost 55 jobs. 
After Ulukaya took over the plant, Chobani was able to grow employment numbers from 55 to over 2,000 South Edmeston residents. From there, it grew to a $1.5 billion company that pays employees twice the minimum wage and offers an equity sharing program. Chobani doesn't disclose its numbers, but they have reported a 9 percent increase in sales and a 7 percent increase in volume sold.
Let's take a look at how Chobani is continuing to thrive in a flailing market.
Takeaway / CC BY-SA
Where Chobani Stands Among The Big Names
Chobani bolstered the popularity of Greek yogurt, which at the company start, was only a tiny fraction of yogurt products. They brought a thicker, creamier yogurt to the mainstream market. Packed with protein, probiotics, and no artificial flavors, Chobani left its competitors looking thin and sugary. More importantly, it left them scrambling to catch up.
According to a 2013 article from the Harvard Business Review, Ulukaya was not impressed with American yogurt. He was used to the thick, homemade yogurt his mother made when he lived in Turkey. In contrast, the yogurt he found in America was watery and full of sugar.
Once Chobani was on the market, Ulukaya insisted that it be sold at mainstream retailers. At the time, Greek yogurt was considered more of a specialty item, sold mostly at gourmet stores for a much higher price than American yogurt. It just wasn't an accessible choice for most consumers. By making sure Chobani was shelved alongside standard American yogurt brands, they gave consumers a gourmet option in their everyday shopping life.
Leading brands such as Yoplait saw their sales plummet in the face of Chobani's emerging competition. In 2016 Yoplait's sales plunged 11 percent, dropping its market share from 25 percent to just 19 percent. In response, Yoplait tried to make up ground by attempting to replicate some of Chobani's popular sellers. For example, they released Yoplait Dippers, a product reminiscent of Chobani's Flip line. While imitation might ruffle feathers at other companies, those in charge at Chobani weren't bothered by Yoplait's move. Simply, they believe their products are of better quality, and the numbers seem to reflect that. 
 
Famartin / CC BY-SA
Adapting To and Innovating Customer Trends
 
As yogurt sales across the board have steadily declined, Chobani has made an effort to adjust to its customer's needs. While big names find themselves chasing trends after they've been established, Chobani aims to shift alongside consumer trends. It's not just food trends they follow, but health considerations and even social consciousness. Chobani understood from the beginning that these trends are intrinsically linked together.
Public awareness and concern for issues such as climate change, greenhouse gasses, and ethical animal treatment are growing. As a result, American consumers are looking for plant-based alternatives for more and more products. Lessening their carbon footprint and prioritizing animal welfare is at the forefront of many consumers' minds. 
It's easy to see this trend in industries like dairy. The dairy industry has seen a decades-long decline that recently caused one of the top dairy producers, Dean Foods, to file for bankruptcy protection. According to the USDA, the consumption of milk per capita in America dropped 18 percent between 2008 and 2018. Meanwhile, the plant-based milk industry is steadily growing.
For this reason, Chobani has been expanding into alternative options for consumers wanting plant-based options. They've incorporated oat-based and coconut-based yogurts into their repertoire. When addressing the boom of plant-based eating and products like oat milk, Chobani president Peter McGuinness explained, "If we stay close to the consumer and continue to give them the food they want from a trend perspective and a health perspective, yogurt continues to grow."
To keep with this outlook, Chobani has expanded its line of products beyond just yogurt. They now offer oat drinks, and both dairy and oat-based creamers. But these additions aren't necessarily a stretch for the company. Cream is a byproduct of yogurt, so the expansion into creamers makes sense. It resolves the issue of waste while giving customers a more natural option. Real cream is often more appealing than some of the oil-based creamers on the market. 
Though Chobani is always adding to their repertoire of products, they address the issue of consumer overwhelm by frequently revisiting the success of each product and removing poor sellers. This gives consumers what they enjoy most and limits the likelihood of indecisiveness.
Big-name brands try to keep up with these trends as well, but they face the obstacle of appearing inauthentic. One survey showed that 86 percent of consumers consider authenticity to be important when making brand decisions. Consumers are savvy about it, and it's not something a company can easily fake. Survey respondents indicated that less than half of brand advertising comes across as authentic. 
Chobani has Hamdi Ulukaya and his honest character with an inspiring backstory as the face of the company, and this is one of the reasons why their marketing excels. But for more faceless companies, such as Yoplait and Danon, authenticity is a big hurdle. It's difficult for big-name brands to resonate on a genuine level with consumers, and they have to work hard to bridge that gap. 

Identity Rebranding 
 
When Chobani began rolling out their coconut-based and oat-based products, there was a delicate balance to strike with their marketing. The goal wasn't to vilify dairy since dairy is imperative to their flagship product. Instead, it was essential to display the company's diversity. The company wanted to open their arms to potential new plant-based customers while showing that Chobani fits all lifestyles. 
There are several plant-based milk alternatives available on the market, yet Chobani has chosen to focus on oat milk. Leland Maschmeyer, Chobani's Chief Creative Officer, explains that oat milk is the dairy alternative that's closest to actual dairy. "There is such a hunger among consumers for really great plant-based milk that just simply getting a great product out there is half the battle." He adds that "With our oat milk, you get the taste experience, the versatility and the sensory experience that people love about milk, but you also don't have the dairy associated with it. The idea of 'almost' helps us deliver that line and the facts around all those notes."
The company's current focus is on educating the consumer about its newer product. This aim dictates how Chobani advertises their oat-based products as opposed to their cornerstone product, Greek yogurt, and ties into the overall image that Chobani's recent rebrand exemplifies. 
Their new brand vision is food-focused wellness. It's not a wellness that's limited to specific diets or lifestyles, but one that encompasses wellness as a whole—whatever that means to the consumer. Branding themselves this way means they can grow and adapt to whatever future trends come and go in food wellness. 
Chobani also shows themselves as a pillar of community and a company with values. The company donates 10 percent of its profits to charity and has several initiatives to give back to the country. They offer financial support for future dairy farmers, they partner with the Special Olympics, and they help communities in many other ways. This shows their commitment to not only food-focused wellness, but overall wellness.   
 
Experiential Marketing 
 
To build a customer base, you need to sell people on the products themselves before anything else. The best way to convince people that your products are the right choice is to let them experience it for themselves. That's why Chobani uses experiential marketing.
Handing out samples is one of the most important marketing tactics Chobani has used to reach the top of the industry. The most significant benefit is that customers get to try the product. There's no doubt that free samples are a successful marketing strategy. But handing out free food has more benefits than just getting the customer to taste test.
Face-to-face interactions with brand representatives create a feeling of connection between the customer and the brand. The majority of consumers leave with a hands-on marketing experience and an improved impression of the brand, taking marketing from a monologue to a conversation. 
This is how Peter McGuinness introduced potential customers to Chobani when he joined the team in 2013. Chobani representatives were attending events or standing on street corners every week, handing out samples to the crowds. Customers could give honest feedback about the product and their preferences.
It's impossible to reach everyone on a street corner or event, so in 2018 Chobani found a different way for consumers to sample their product for free. For their 10th anniversary, Chobani invited Americans to visit their website, where they could print a coupon for a free Chobani product.
McGuinness touts community events as "unsung heroes" in the marketing world. Chobani attends everything from school visits to blood drives and as many local events as they can.
The company even opened a Chobani cafe in New York City with a full menu to showcase their product. It's a great way to showcase both the quality and versatility of their Greek yogurt. Future buyers of Chobani yogurt can try recipes for sweet or savory meals for breakfast, lunch, or dinner, inspiring customers to get more creative at home as well with their Chobani-yogurt recipes.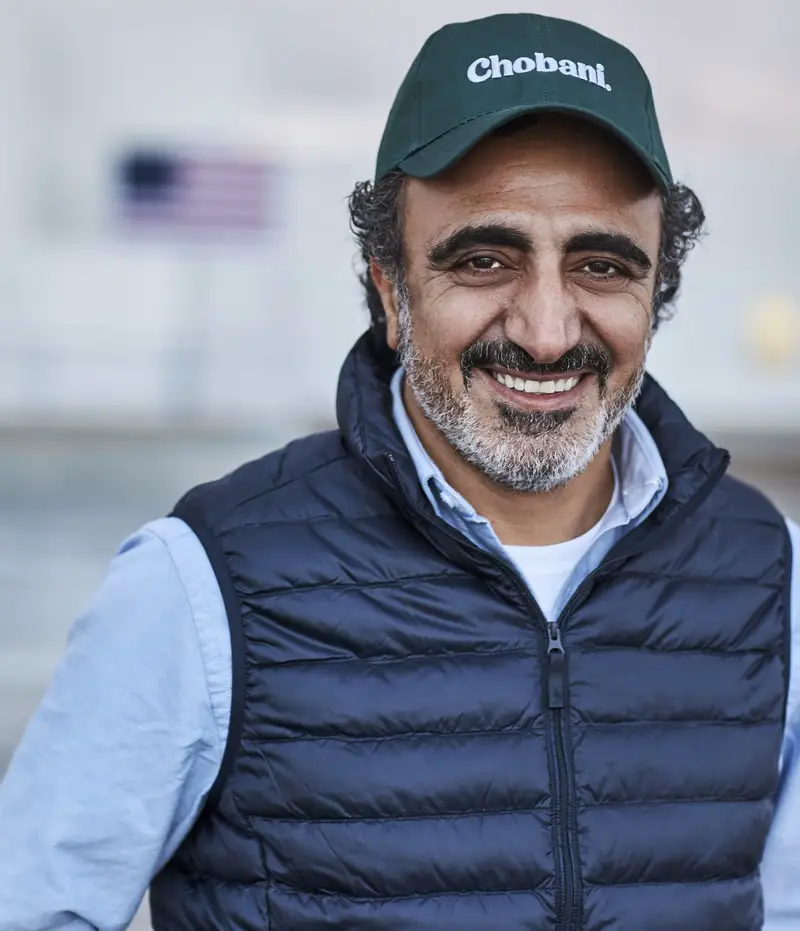 A Focus On More Than Just The Customers
 
Keeping with the importance of community to the company, Chobani prioritizes its employees. Ulukaya understands that the best way to have a productive workforce is to show them that you appreciate them. He believes that in the long term, it costs more to lose employees. One of the tactics Ulukaya has used for employee satisfaction is setting his own minimum wage for Chobani employees, which can be as much as double the minimum wage for the state they're in.  
It's not just employee wages that Ulukaya takes into consideration. In 2016, Ulukaya gave his full-time employees an actual stake in the company. Instead of coworkers, they were all now co-owners. In a letter to his employees, Ulukaya told them: "This isn't a gift. It's a mutual promise to work together with a shared purpose and responsibility." Employees can end up owning up to 10 percent of the company. If Chobani goes public or sells, Ulukaya has given his employees the potential to become millionaires. 
Also, around 30 percent of Chobani's employees are refugees or immigrants, and they offer English lessons for those who need it. Ulukaya believes that the best way to help refugees is to give them jobs, and he's doing his best to make that happen. He encourages other business leaders to provide refugees equal consideration when hiring. 
 
Final Thoughts
In an industry that's seeing a steady decline, Chobani's nine percent dollar growth and seven percent volume sold increase is highly impressive. The company's secret to success isn't a complicated one; they connect with people. Whether it's their consumers or their employees, that connection is what keeps them at the top of the game. 
Listening to customers helps them keep up with trends and meet consumer wants and needs. Connecting with customers through experiential marketing is a large part of Chobani's continued success. Offering free samples and creating a dialogue with customers helps to build brand loyalty and community trust. 
Listening to consumer wants and growing alongside trends instead of running to catch up is what keeps Chobani on the top of the yogurt industry. Expanding into plant-based options shows an understanding of consumer concerns, and dairy creamers reduce waste by using products they already produce. 
Overall, a focus on both employee and customer loyalty is how Chobani holds on to their spot as a major name in the yogurt industry.