In 1993, a self-made millionaire "adopted" the city of Tangelo Park, which boasted the highest crime rate in Central Florida at the time. With the hope of improving the community, Rosen infused millions of dollars in social programs, forever changing the fortunes of residents.
According to the sheriff, Jerry L Demings, Tangelo Park is now a "changed neighborhood. Violent crime is way down, in part because of the program, and his officers no longer make frequent stops there."
What was once out of reach for children (a 50% dropout rate for high school) has now become a reality as nearly all seniors graduate, many on scholarships that Rosen has paid for. Streets are safe to walk again as violent crime has plunged.
"I finally came to the conclusion that I most likely didn't have the organization man's personality. I've known since an early age that I've been inflicted with what I call that awful defective entrepreneurial gene. Deep down inside I knew that one day I was destined to be in business for myself."

Harris Rosen
Early Life
The son of Russian Jewish immigrants from Ukraine, Rosen grew up poor on the Lower Eastside of Manhattan. After serving in the army, Rosen began his career working for Waldorf Astoria as a salesman before eventually joining Disney as director of hotel planning. By his early 30s, he was fired from Disney and told, "you will never be a company man." Rosen ends up buying his first hotel, a Quality Inn in Southwest Orlando.
Transforming Tangelo Park
"Epiphany might be too strong of a word … it was more of a voice. A feeling that 'now is the time.' You've achieved more success than you ever imagined. It's time now to recognize that you've been blessed…to be thankful and to share your good fortune with others."

Harris Rosen, The Tangelo Interviews
Having a life surpassing barriers of entry with educational opportunities, Rosen has literally transformed a city with hotels, employment opportunities, tourism, and both real estate and human development.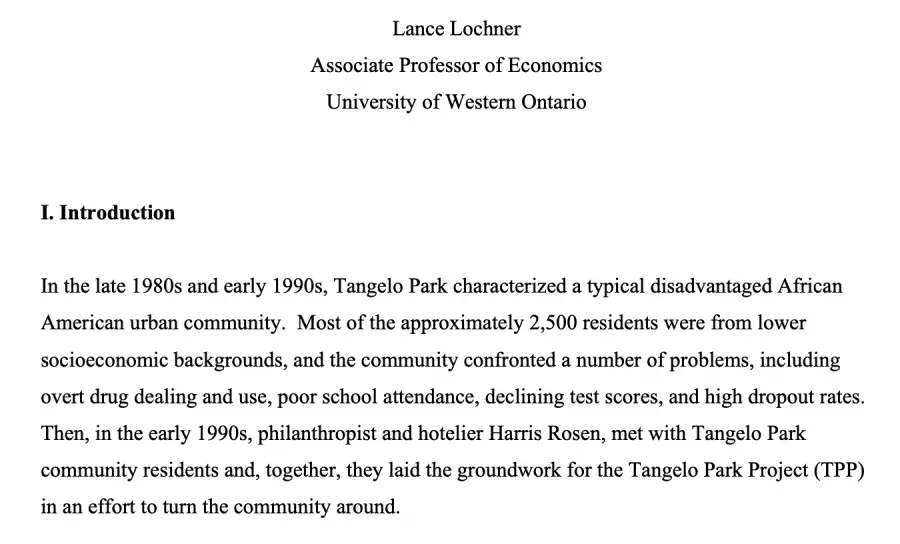 Once undeveloped land meant for orange trees, Tangelo Park was an isolated residential area. Originally built as housing for workers at the nearby Martin Marietta, African Americans make up 90% of the community, with rampant drug dealing, and eye-opening crime statistics. Harris Rosen rebuilt the residential zone, planned gated communities, and started a daycare program from scratch, expanding out to a high school and opportunities for Tangelo residents to obtain multiple university degrees as part of the Rosen Scholarship Program. Rosen scholars could have potentially ended up on the street without the macro-level interactions of this man.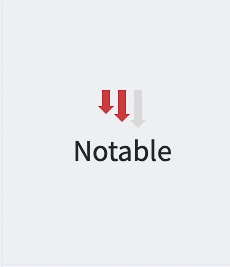 The Power Of One Man's Efforts Versus What the Government Does…or Can Do.
Tangelo Park: Annual Crime Rates Changes from 1993 to 2003
Comparison communities: Orange County (OCSO), Florida UCR, Zones 43 & 44, Sector 4 (OCSO), Orange Country UCR Crimes, and Sector 4 UCR.
| | |
| --- | --- |
| Tangelo Park | Comparison Communities |
| Motor Vehicle Theft -25.6% | Motor Vehicle Theft +20.3% |
| Burglary -45.5% | Burglary -10.3% |
| Assault -20.5% | Assault +0.3% |
| Robbery* +20.2% | Robbery +2.2% |
*Robbery rates tended to increase in Tangelo Park relative to other areas.
~Incidentally, robbery, and rape are the only crimes found to increase with education (Lochner and Moretti, 2004)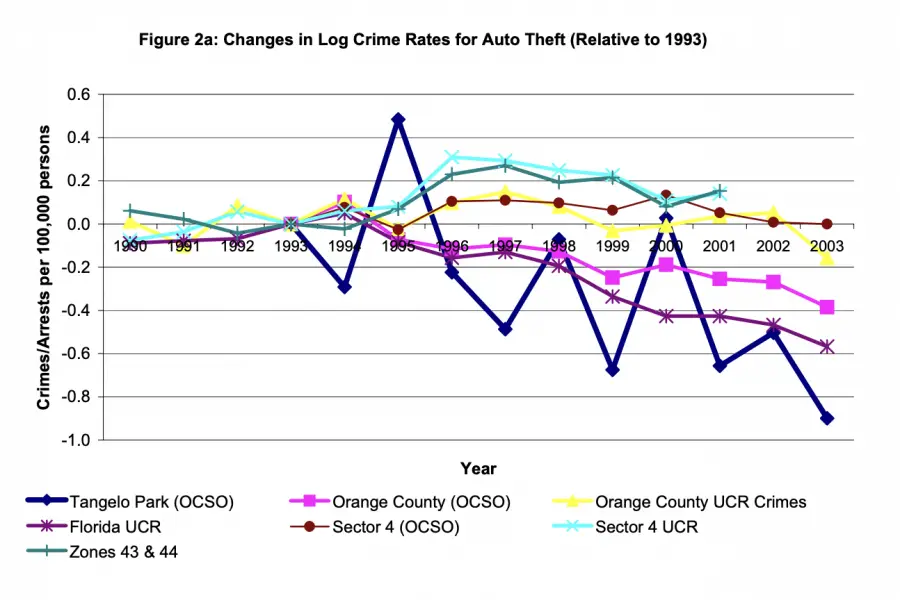 How did Rosen transform Tangelo Park?
The Tangelo Park Program started in 1993 and gives every neighborhood child aged 2 to 4 access to free preschool. Parents have access to parenting classes, vocational courses, and technical training. For a program that took just one hour and four people to develop, the impact has been wide and deep.
Tangelo Park Elementary is now a grade-A school.
Every high school senior graduates.
Every high school graduate who is accepted to a Florida public university, community or state college, or vocational school receives a full Harris Rosen Foundation scholarship, which covers tuition, living and educational expenses through graduation.
Nearly 200 students have earned Rosen scholarships, and of those, 75% have graduated from college—the highest rate among any ethnic group in the nation.
"I was part of the first generation of pre-K children in the Tangelo Park Program. Now I'm about to be the first generation of my family to go to college."

Antionette Butlera, senior at Dr. Phillips High School. Butler plans to use her Rosen scholarship to attend UCF and study neurology
"When people have the resources to go and succeed, there's a ripple effect. It becomes generational. No one in my family ever went to college before, but now, my baby sister can't even picture a life without college. My mother even went back and got her degree. I showed her that she could do it."

Donna Wilcox, Full Ride – Rosen Scholar – x2 – BA in interpersonal/organizational communication at UCF & M.A. in Mass Communications at the University of Georgia.
"I fell in love with the neighborhood; I knew I wanted to do some type of scholarship program for them."

Harris Rosen
After spending $9 million on his adopted neighborhood of 2,500 residents, Rosen was asked if the program has a stopping point.
"I will be involved in the program until Tangelo Park is a gated community and the average home is selling for $1 million. Then I'm gone."

Harris Rosen
That's who Harris is. We would all be lucky to be motivated by the gravity generated by such a person, someone who pushes the limits by just dreaming big ideas…
and making them happen.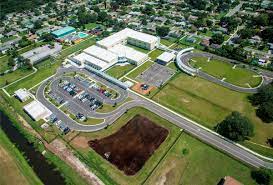 What Were The Total Benefits of the Tangelo Park Project (TPP) on Local Residents?
Reductions in social costs associated with local crime; increased literacy, education, and access to opportunities
Annual social benefits from crime reduction are estimated to be ~$300,000 USD
Average increase in lifetime earnings of $50,000 per Tangelo Park student/resident
Combined benefits from both increased earnings and reduced crime:  
~$1.3 million per year to Tangelo Park residents 
What Did Harris Do Next?
"I was having lunch with UCF Professor Abe Pizam, and I told him, 'One day Abe, I will build you a new school.' There were about 75 students [at the time]."

Rosen, Lunch with UCF Professor Abe Pizam
Five years later, Rosen is a man of his word: $10 million in cash and 20 acres of property at his new resort, Rosen Shingle Creek…with some suggestions:
"I told President Hitt that I would really prefer the new college be out here near the theme parks, convention center and International Drive…closer to where all of the action is."

Harris Rosen to Abe
Rosen, the deans from the top hospitality colleges in the nation—Cornell, Michigan State, UMass, UNLV, and Rosen's team of architects developed "a tremendous plan based on the best of the best of the best," opening in 2004: the Rosen College of Hospitality Management.
"I didn't want to make a fuss out of the UCF donation. I was ready to just send a check in the mail. But President Hitt implored me not to do it that way. He said, 'Let us make an announcement. Let us use your name. If people hear that you're doing something, it might encourage others to do something.' When he put it that way, I had to say okay."

Harris Rosen, Developing the University
Rosen Hotels & Resorts
All are located on International Drive, the site of his first hotel, stand the 1334-room Rosen Centre and 800-room Rosen Plaza, both connected to the Orange County Convention Center's West Building.
The Rosen Inn and Rosen Inn International are closest to Universal Studios at Pointe Orlando, Florida with the Clarion Inn Lake Buena Vista located next to Walt Disney World.
Rosen Hotels & Resorts owns and operates eight hotels and resorts in the Orlando metropolitan area. 

The company administers 6,694 guestrooms, has 4,500 employees, and is valued at over $500 million.

Rosen Hotels & Resorts
Harris Rosen's Life in Bullets Continued
Spends over four decades in the same comfortable, homey office at Quality Inn, wreaking havoc on traditional approaches to business with solid, core grit, and determination
2018, his son, Adam, passes away from cancer.
Wins Modern Healthcare's Top 25 Innovator & Florida's Children First: Outstanding Champion for Children; both in the same year.
is currently 81 years old and still truckin' | Net worth: ~200,000,000 USD
Harris Rosen's Awards:
2021 – Wins Modern Healthcare's Top 25 Innovator
2021 – Florida's Children First: Outstanding Champion for Children
2020 – Florida Governor's Hurricane Conference Public/Private Achievement Award
2018 – Orlando Business Journal's inaugural Lifetime Achievement in Diversity in Business Award
2018 – World Health Care Congress, Lifetime Achievement Diamond Award — Health Benefits Innovation
2018 – World Health Care Congress, Lifetime Achievement Diamond Award — Public Leadership
2018 – International Drive YMCA facility becomes the Rosen YMCA Aquatic Center
2018 – Ambassador for the Poor Award, Food for the Poor
2017 – Orlando Business Journal's CEO of the Year
2017 – Orlando Business Journal's Philanthropist of the Year
2017 – International Drive Resort Area Chamber's Harris Rosen Philanthropy Award (named in his honor as an annual award)
2016 – Citizen of the Year Award by the University of Florida's Bob Graham Center
2016 – Outstanding Community Supporter of Education Award by Beta Xi Chapter of the National Sorority of Phi Delta Kappa
2016 – Inducted into the U. S. Army ROTC National Hall of Fame
2015 – The King Center Coretta Scott King A.N.G.E.L. Award
2015 – Orange County Public Schools' Philanthropist Hall of Fame
2015 – American Heart Association Gary Sain "Go Red" Health Champion Award
2014 – Holocaust Memorial Resource and Education Center's Dinner of Tribute Honoree
2013 – Boys & Girls Clubs of America Alumni Hall of Fame
2013 – NAACP Humanitarian Award
2013 – Kappa Alpha Psi Fraternity, Inc. Humanitarian Award
2012 – 100 Black Men, Inc. Chairman's Award
2011 – Cornell University Alumni Entrepreneur of the Year
2011 – Central Florida Hospitality Hall of Fame Inductee
2010 – Visit Florida Tourism Hall of Fame Award Inductee
2009 – Junior Achievement of Central Florida Business Hall of Fame
Author's Note
Up until a week ago, I personally didn't have any idea who Harris Rosen is. I am so happy to know how a person can physically and impactfully improve an area around them. Here's a great example of what people do with their lives, measured in bullet points and statistics.
Kudos Harris, kudos.
What Would You Do?