Image by Mike Mozart (CC BY 2.0)
Recent decades saw the decline and eventual closure of brick-and-mortar giants like Toys-R-Us, Fortunoff, and Payless. Many more stores with a physical presence are facing a retail apocalypse as online competition from behemoths like Amazon make it impossible to compete with the lower overhead costs of virtual storefronts. 
However, Trader Joe's, a well-respected supermarket chain, is booming despite a growing base of online competition with grocery-delivery businesses like FreshDirect, Instacart, and even Walmart, as well as warehouse retailers like Costco and BJ's. Pharmacies have also cut into profit margins for other supermarkets but haven't phased Trader Joe's market share. 
Even while people in America were tightening their belts and hanging carefully onto their wallets during the Great Recession, Trader Joe's was expanding. While the company is notoriously secretive about its operations and finances, we do know it experienced a 10-year compound growth rate in its customer base of 5.9%, beating out Whole Foods' 4.9% and Kroger's 0.2%. In its 52-year history, Trader Joe's has grown from a lone quirky grocery store on the west coast into more than 500 stores across the nation, with an estimated annual revenue of $13.3 billion, according to Supermarket News. 
Why is that while supermarkets like Walmart and Kroger are clamoring to get more bodies through their doors, a grocery chain—of all things—like Trader Joe's has hundreds lined up outside its doors in anticipation of opening day? 
Here we take a look at what elements Trader Joe's got right to develop a recession-proof, cult-like following that's been the key to its success.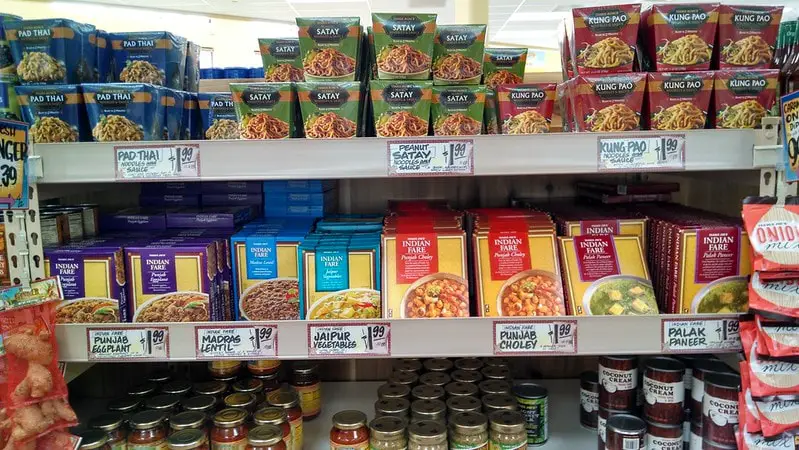 Aranami [CC BY 2.0]
An Escape From the Paradox of Choice
At less than 15,000 square feet and about 4,000 SKUs per location, Trader Joe's is a comparatively small grocery store. In contrast, Walmart Supercenters typically use 185,000 square feet of space and 100,000 plus SKUs. Even the more average-sized grocery store is about 45,000 square feet and has nearly 50,000 SKUs.
Larger-sized grocery stores tend to follow the conventional wisdom that the more products they have available, the more customers can find just what they need, spending more as a result. But does offering 100 types of pasta sauces really increase sales? 
Psychologists Sheena Iyengar and Mark Lepper would argue too many options result in fewer items scanned at the cash register. In a remarkable experiment, the psychologists set out to see if more really was better. 
Shoppers at an upscale food market were greeted one day by 24 varieties of gourmet jam and a $1 coupon off any jam for those who sampled the spreads. Another day, there was the same setup and dollar coupon, but only six varieties of jam offered. 
As expected, the larger display garnered more interest, but surprisingly, resulted in fewer sales than the smaller display. People who encountered the large display were one-tenth as likely to buy as people who were met with the smaller display. And those who purchased from the more limited selection were more satisfied with their choices. The study concluded that as the number of choice increases, sales volume and customer satisfaction decreases. 
Trader Joe's limited footprint and curated offerings were most likely born out of their desire to keep costs down, efficiently manage inventory, and simplify their supply chain, rather than a hunch that fewer products would bring more sales. Nonetheless, having fewer choices has resulted in selling more than double per square foot than competitors like Whole Foods. 
By having a select number of offerings, Trader Joes not only unknowingly boosted their revenue, but also cemented at its foundation a core pillar that was an essential element to creating a loyal fan base—a pleasant shopping experience.
Sikander Iqbal [CC BY-SA]
It's a People Business
Ray Kroc of the famed McDonald's secured his future fortune when a serendipitous encounter with Harry Sonneborn completely transformed his business perspective. Sonneborn clued Kroc in that while he thought he was in the hamburger business, he was actually in the real estate business. Kroc pivoted by buying real estate and then leasing it to franchisees. Today, McDonald's isn't merely a fast-food chain; it's a $30 billion real-estate company. 
Many supermarkets still believe they're in the retail business, that more variety of goods in stores outfitted with all the bells and whistles is how they'll grow. But Trader Joe's founder Joe Coulombe knew grocery stores were a people business through and through.
Coulombe is quoted as saying, "This was one of my most important principles: Never have a mandatory sell. This rule gets violated all the time; it just drives me nuts: 'Buy now!' You never give an order to a customer."
Trader Joe's knew that you don't get people to buy by demanding they do it. Instead, the desire emanates from exceptional in-store experiences and a customer service that keeps them coming back. 
Small niceties like free coffee and samples work wonders to turn what could be a subpar shopping ordeal from tired and hungry guests, into a delightful event. People crave going to Trader Joe's to get their coffee fix and try the latest and greatest Trader Joe's pairings long before they even step foot in the store.  
Customers who also ask a Trader Joe's crew member—what employees are called— where to find Trader Joe's Pita Bite Crackers, for instance, are often met with a smiling employee. The crew member not only tells them where to find the delicious goods, but takes them there and most likely makes a genuine recommendation along the way about a dip they had with those crackers. The company relies on its employees to promote this type of customer intimacy and to deliver the in-store experience they want, but never demands it.  
In addition to being incredibly helpful while shopping, crew members create a lasting impression during the check-out experience. Many businesses try to cut costs by having customers do things themselves—whether it's bagging their own groceries, scanning their items at the self-checkout lane, or boxing up their food in a restaurant. 
But while businesses save money, the price they pay is customer satisfaction. The fact that cheery Trader Joe's crew members remove items from your cart, scan them, bag them, and put them back into your cart before handing it over, almost seems like a luxury and a basic, forgotten courtesy at the same time. 
And cashiers don't just throw your items into a bag. In one of Trader Joe's recent podcasts, a crew member relates, "When I bag…I try to make every bag a masterpiece. I want [the customer] to enjoy…unloading all these treasures that they've taken the time to pick out at our store…I try to bag it like I was bagging it for my mother or my father or my sister."
All these positive experiences combine to make Trader Joe's a five-star customer experience that creates loyal fans who look forward to shopping there. According to the latest Consumer Reports ratings comparing 96 grocery stores, Trader Joe's was the only national grocery chain to earn the top overall satisfaction score. The latest annual report from the American Customer Satisfaction Index (ACSI) also puts Trader Joe's in first place, ahead of other giants like Publix and Wegmans.
seaternity [CC BY-SA]
Happiness Is Contagious
Coulombe once told the Los Angeles Times, "What I keep telling people [is] forget about the merchandise; it's the quality of the people in the stores." Coulombe knew that how his employees feel about their workplace trickles down to how his customers think about his store and their shopping experience. So, he strived to create an environment where crew members were excited to come to work. And it started with great pay and benefits. 
According to Glassdoor reports, Trader Joe's crew members receive an impressive pay average of $15 per hour, nearly 50% more than the national earnings average for grocery store clerks. Trader Joe's employees receive a seven to 10 percent annual increase, paid time off that increases with tenure, and health plans costing only $85 per month. The supermarket also makes retirement contributions matching 10 percent of an employee's annual salary for those working more than 30 hours weekly. 
Coupled with Hawaiian-inspired uniforms, an adventurous store decor, and a "crew" that loves where they work, it's easy to see why every hour seems like happy hour at Trader Joe's. And it could also be why some employees keep coming back for more for over 50 years. 
In addition to fostering a sense of community between employees by fondly referring to them as the "crew," the Trader Joe's culture is derived in large part from its seven core values, taught to all employees during their training. The manifesto, which hails principles like "We hate bureaucracy" and "Treat the store as the brand," provides a common ground that solidifies worker relationships and engenders loyal employees whose authenticity and pride are fodder for raving customers.
The grocery store chain encourages a generalist work environment where everyone is on equal footing and is a subject matter expert. Store managers, also known as "Captains," can be seen restocking shelves or manning a cashier if there's a line of customers. Even CEO Dan Bane bags groceries in stores, as revealed in a podcast episode. Similarly, crew members flip-flop between duties depending on current needs.
It's also not uncommon to hear a cashier gushing about a product the customer is buying because they've tried it themselves and loved it. They aren't instructed by management to do so, but they share because they care about the company they work for and have a genuine appreciation and taste for Trader Joe's products.
 Infrogmation of New Orleans [CC BY-SA]
A Grocery Store Adventure for a Bargain
Trader Joe's distinctive branding and low-priced goods are a crucial factor in its success and cult-like following, even among kids. 
Children can help mom and dad shop with their own kid-sized shopping carts, search for a hidden stuffed toy within the store—like a real treasure hunt—to get a prize, admire the fun murals on the wall, and get free stickers. Put simply, kid's love Trader Joe's because Trader Joe's loves them. And parents love they get to pick up their favorite in-house brand items in peace while the children are entertained with their own adventure. 
The company began its foray into private-label items in 1972 with a granola product, but today, over 80 percent of the merchandise bears the Trader Joe's name—or at least some form of it. Depending on the inspiration for the packaged product, Trader Joe's might become Trader Ming's, Trader José's, Trader Giotto's, Trader Jacques, and more to match the cuisine, which only adds more character to an already well-loved brand.
Not only do the company's private-label items reinforce their brand image, but they also create products customers can't get enough of and that can only be found in one place—Trader Joe's. And because the grocery store limits product choices, they sell a higher volume of fewer products. This allows them to buy in scale and have more negotiating power in driving down prices for greater customer affordability. It also makes it easier to keep shelves fully stocked, so consumers find everything they need. 
Shoppers are often pleasantly surprised at the price tag of Trader Joe's many quality items. While the majority of supermarkets and grocery stores use coupons, discounts, or loyalty programs, the company intentionally avoids the hassle by adapting an "everyday low-pricing" philosophy. Trader Joe's quirky newsletter, the Fearless Flyer, showcases new or seasonal items and exciting takes on existing favorites, but there's not a coupon or price slash in sight. Essentially, all merchandise is on sale 365 days a year. 
Low-Budget Marketing and Social Currency
National supermarket chains typically spend millions on advertising, loyalty programs, and public relations. Trader Joe's largest marketing expense, on the other hand, is letting people try their food via in-store sampling stations. This fact is less surprising when taking into consideration that the only other marketing the company does is through its low-budget newsletter distributed eight times per year and an email newsletter.
The strategy saves the company a considerable amount of money. It's also reflective of their desire to increase the value and basket size of existing shoppers rather than the traditional marketing focus of getting more customers through the door. A fringe benefit to this value-based approach is that Trader Joe's encourages one of the best types of marketing, the free word-of-mouth. 
Jonah Berger of "Contagious: Why Things Catch On," explains one of the reasons word-of-mouth is an effective marketing tool is because it inherently has a higher trust factor among consumers and is targeted marketing at its finest. 
Unsurprisingly, we trust our friends more than we do ads from companies profiting from our purchase. We also typically only share information if it's relevant to the conversation. If, for example, you say you're unhappy with how high your grocery bill is, a friend might rave to you about a budget-friendly grocery store they love that has the best appetizers for dinner parties.  
Unless you have reason to distrust your friend's intentions, chances are they'll pique your curiosity, even get you excited about those appetizers that can save you time in the kitchen. This makes your friend look good by earning them what Berger identifies as "social currency," and makes you eager to check out their recommendation. 
Social currency is why we share funny videos, tell witty jokes, or give recommendations; it makes us look good. And the better something makes us appear, the likelier we are to pass it on.
Trader Joe's fans have done an excellent job of sharing their love for the brand. Shoppers have created Facebook fan pages with nearly 500,000 likes, cookbooks using Trader Joe's products, fan sites, and even petitions to persuade the company to open stores in their area. When Trader Joe's finally comes to the neighborhood, customers are bursting with excitement and wait in lines with over 500 people on opening day to fill up their carts with their Trader-Joe's fix. 
Thaddeus Zajdowicz [CC BY]
Final Thoughts
CEO Dan Bane explains it best as to why people are so loyal to Trader Joe's, "Our people are warm and friendly. It's fun and an adventure. They find unexpected products. They experience cheap thrills. Our people are helpful and knowledgeable. They know that we have tested each product to ensure quality and satisfaction. They trust us."
Trader Joe's employee and customer loyalty are the driving forces behind their wild success. 
The company's cult-like following emerges from it's curated, unique, high-quality products that are offered with low prices and a side of quirkiness.
Low-budget marketing tactics like the Fearless Flyer and sampling stations provide social currency and a reason to spread the word through word-of-mouth channels.
A focus on increasing brand distinctiveness and adding top-notch value for customers and employees are vital lessons for supermarkets to learn to survive and thrive in the new decade.